A strengthening upper trough/low centered over Wyoming spawned convection across the Central Plains during the afternoon/evening of April 9. The strongest of these storms developed along an area of convergence in far SW Nebraska during the late afternoon hours. The convective system moved west to east across southern Nebraska through the evening hours. Severe wind was the primary initial hazard with these storms, with a transition to severe hail occurring as they tapped into an environment characterized by steeper lapse rate.
Numerous strong/severe storm cloud top signatures were apparent in the GOES-16 IR Window channel imagery. The higher spatial (2 km vs 4 km) resolution makes these features more obvious, and improved temporal resolution (routine 5 min vs 15 min over CONUS) ensures important features are not missed. Overshooting tops, Enhanced-V's, and thermal couplets were all apparent with the convective system. These features were long-lived, indicating sustained strong updrafts. Since these features were associated with severe storm reports early on, a forecaster could be confident that the storms would continue to produce severe as long as the signatures persisted.
Overshooting tops, characterized by a localized region of cool cloud top temperatures, indicate the location of a robust updraft. Dworak, 2012 found Overshooting Tops were associated with severe weather reports over 40% of the time during the warm season. These features also pose a hazard to aviation. Enhanced-V's are directly tied to overshooting tops, and are characterized by a V (or U) of relatively cool cloud top temperatures downwind of the overshooting top. The signature is formed as flow is forced around the overshooting top. The thermal couplet signature refers to the couplet of cold temperatures of the overshooting top and relatively warm temperatures immediately downstream of the overshooting top and within the enhanced-V.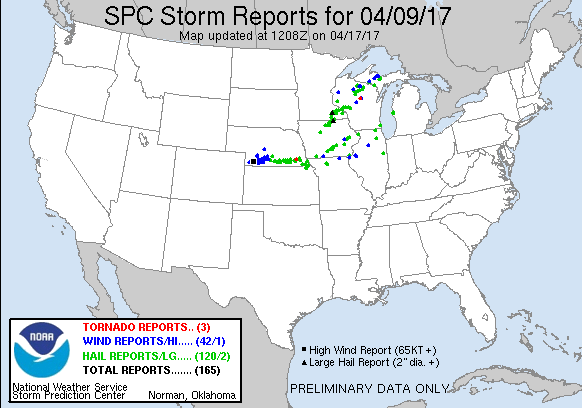 – Bill Line, NWS
"The GOES-16 data posted on this page are preliminary, non-operational data and are undergoing testing. Users bear all responsibility for inspecting the data prior to use and for the manner in which the data are utilized."